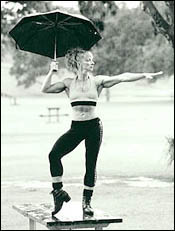 Owner and operator of The Fitness Connection since 1988. One of the premier fitness professionals and consultants in the New Orleans area since 1986. Featured on every morning show in New Orleans as a fitness expert Personal Trainer, Medical Exer. Specialist & Motivational Speaker. Featured writer for Health & Fitness magazine. Public speaker on subjects relating to a healthy lifestyle. Freelance writer on the topic of health and fitness.

Carla Gray is currently a senior at Southeastern University finishing a Bachelors of Science degree in Exercise Science.
CERTIFICATIONS AND HONORS
B.S. in Exercise Science from Southeastern University graduated Dec 2012, Carla has continued her learning through industry studies in nutrition, age management, post physical therapy, corporate wellness, flexibility training, and psychology.
400 hrs in cardiac rehab
Special EKG and ROCK training
Studied under top athletic trainer Ty "Ropeman" Felder for one year
AFAA - Personal Training Certification - July 1993 recent 2013
ISMA/AAAI - Personal Training Certification - July 1993
Aaron Mattes Active and Assistive Isolated Stretching Seminar - September 1993
St. John Neuromuscular Therapy Pin Relief Seminar(Concentrating on Postural Analysis and Cervical Soft Tissue Disfunction) February 1994
AFAA - Primary Aerobic Certification - April 1995 recent 2010
AFAA - Weight Training Specialist Certification - March 1996
AFAA - Emergency Response Certification - April 1996
AFAA - Health Care Essentials Certification - April 1996
AAFP - Medical Exercise Specialist Certification - August 1996
AFFA - Senior Fitness Certification - August 1997
ACSM (American College of Sports Medicine) - Health/Fitness Specialist Certification - October 1997 recent 2012
ACSM - Health Fitness Instructor - November 1997
Aaron Mattes: Active Isolated Range of Motion Certification - April 1998
AFFA - Powerboard Certification - November 1998
Cycle Reebok Advanced Skills - December 1998
Johnny G. Spinning Instructor Certification - February 1999 recent 2012
Reebok Flexible Strength Workshop - January 2000
Cycle Reebok Interactive Riding Technique - January 2000
AFFA - Mat Science Certification - September 2000
Former athletic Representative from Louisiana for the National Physique Committee (NPC)
Certified State, Local and Regional Bodybuilding Judge (NPC) and now for ABFF
Promoter of New Orleans Body Building, Figure & Fitness Championships
Promoter of Musclemania and Fitness America
Writer for Health & Fitness Magazine for over 20 yrs
TITLES
1986 AAU Overall Ms. Louisiana Bodybuilding Championships
1986 AAU Most Symmetrical at the Ms. Louisiana
1986 AAU Best Female Athletic of the Year
1986 NPC Ms. New Orleans - 2nd Place Lightweight
1987 NPC Overall Ms. New Orleans
1988 NPC Ms. Louisiana - 1st Place Lightweight
1988 NPC Southern Classic - 3rd Place Lightweight
1990 NPC Eastern Seaboard - 8th Place
1990 NPC Eastern Seaboard - 4th Place Mixed Pairs
1990 NANBA Western USA - 4th Place
1990 NPC Junior Nationals - 10th Place Mixed Pairs
1991 NPC Southern Classic - 2nd Place
1991 NPC Overall All South Bodybuilding Championships -1st Place
1992 NPC Southern States - 2nd Place
1992 NPC Southeastern USA - 2nd Place
1993 NPC Top Fifteen Finisher in the Middleweight Division USA
1995 NPC Junior USA - 2nd Place
1995 NPC Nationals - 2nd Mixed Pairs
1997 NPC Masters Nationals - 2nd Middleweight
1997 NPC Top Fifteen Finisher Middleweight Division USA
1998 Junior National Bodybuilder's Championship in the Middleweight Division in Charlotte, North Carolina.
1998 Master's Nationals in Pittsburgh - 2nd Place
1998 Louisiana State Championship in Lafayette -1st Place
2000 Jr. USA - 2nd Place
Copyright © 1998 Fitness Connection. All rights reserved.
Information in this document is subject to change without notice.