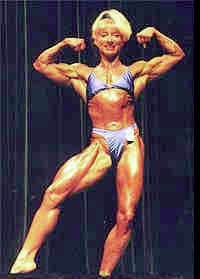 Tip of the Month:
Balanced Shoulders
---
ASK THE TRAINER
(click here)
10 WAYS TO HELP YOU STICK TO YOUR FITNESS PROGRAM



1. Do it for yourself.
2. Take it one step at a time.
3. Be committed.
4. Reward yourself for making a goal. Try a massage, new outfit, pedicure or a night at the movies. (Not high fat foods.)
5. Don't be a weekend warrior, pace yourself. (You can not get in shape in two weeks. Think how long it took you to get out of shape!)
6. Join a club, class or community center. Hire a trainer! Build a support network.
7. Cross train. Change your routines. Fight boredom.
8. Wear the right clothes and shoes for the activity. Make sure you know how to adjust the equipment to fit yourself.
9. What is a healthy lifestyle and how do I get started? Educate yourself!
Read, surf the web, talk to fitness professionals. Knowledge is one key to staying on track.
10. Proper nutrition is the key. Americans tend to eat too much junk and fast food. Think nutrition.
Copyright © 1998 Fitness Connection. All rights reserved.
Information in this document is subject to change without notice.