EAT, DRINK AND BE HEALTHY: RECIPES TO PUT YOU ON THE ROAD TO FITNESS
This months recipe!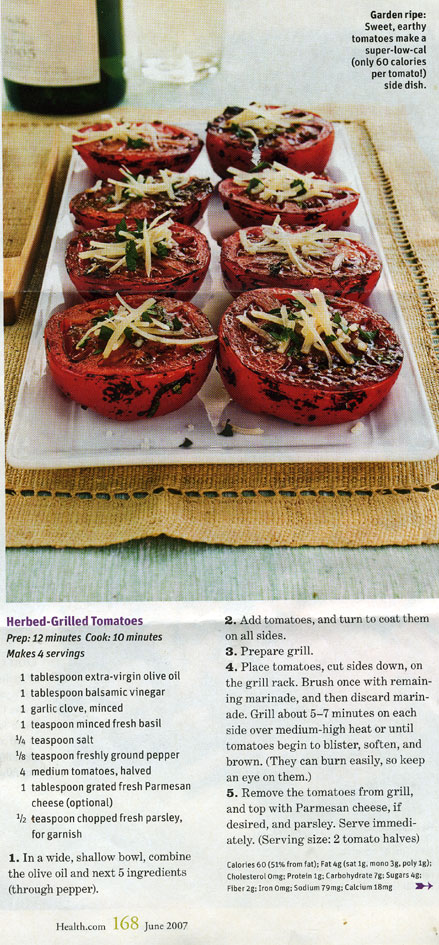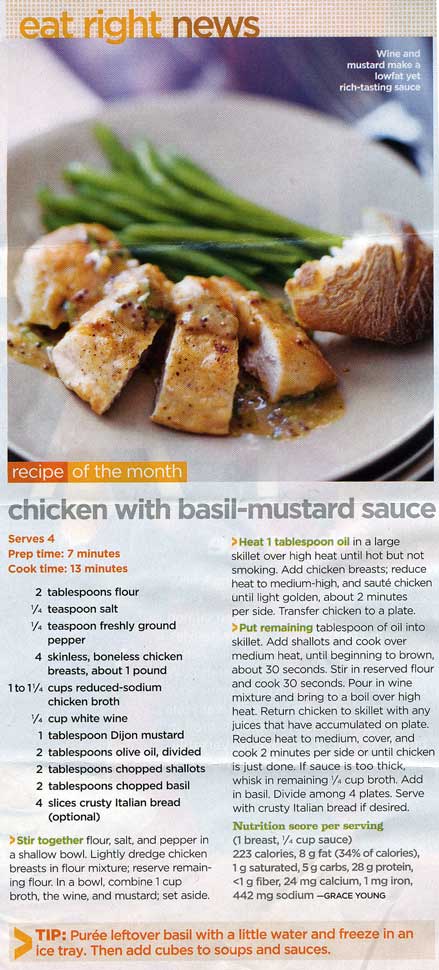 Simple, Satisfying Salads
View Recipe
By Linda "The Spin Nazi" Wainright
"Eewwwww! Veggies! I don't wanna eat my veggies"
Vegetables are at the heart of a solid weight loss program. They have all the vitamins and fiber of fruit without all the sugar and they fill you up so that you are hungry less often. Let's face it, though, unless you're a steamed broccoli fanatic (which I am), the "standards" can get a little dull after a while. So here is an idea to wake up your meals, get your serving of veggies in and do it in a way that's not "diety" tasting.
Portobello "Pizzas" ­ Prep time 15 minutes/Cook time 20 minutes
Portobello mushrooms are deeply flavorful, mature specimens of the Italian brown button mushroom called cremini. They have a sturdy texture, so they can be cooked almost like steak, and their beefy flavor completes the illusion. Before cooking the caps (cut those stems off), wipe the tops clean with a damp paper towel.
This recipe, which comes from Redbook's "Flavor Rules" cookbook, is perfect for those who like mushrooms, especially Portobello mushrooms, and for dieting pizza lovers who have to give up their crusts. Here are the recipe's ingredients:
4 portobello mushrooms (5 ounces each), stems removed
2 teaspoons olive oil
2 garlic cloves, minced
1/8 teaspoon crushed red pepper flakes
2 tomatoes, chopped (1 ? cups)
teaspoon grated orange zest
teaspoon salt
teaspoon dried sage
4 ounces part-skim mozzarella cheese, shredded
Preheat oven to 400 degrees F. Spray a pan (like a pizza pan, a jelly roll pan, or a cookie sheet) with some nonstick no fat cooking spray.
Arrange mushrooms, stemmed side down, in one layer on the pan and bake 15 minutes, or until tender when pierced with tip of knife.
Meanwhile, in 10-inch nonstick skillet, heat oil over low heat. Add garlic and red pepper flakes and cook 1 minute. Add tomatoes, orange zest, salt and sage and simmer 5 to 7 minutes, or until slightly thickened.
Turn mushrooms stemmed side up. Spoon mozzarella into mushroom caps, dividing it evenly, and top with tomato mixture. Bake 5 minutes, or until cheese has melted. Serve hot.
This makes 4 servings at an estimated 135 calories, 8 grams of protein, 8 grams of carbohydrates, and 8 grams fat per serving.
This recipe appears exactly as it does in the "Flavor Rules" cookbook; feel free to modify it to your own tastes and diet needs. Here are some tips to knock down that 8 gram/serving fat count, along with some other tips to pump up the flavor and make it your own:
Spray the mushrooms with a little Pam Olive Oil Flavor Nonfat Nonstick Cooking Spray or some I Can't Believe It's Not Butter Spray, instead of using the 2 teaspoons of olive oil (this will reduce your fat count about 2 grams per serving.)
Use fat free or low fat cheese in place of the part-skim shredded mozzarella cheese. For instance, I've used fat-free feta cheese for a more Mediterranean flavor, or reduced-fat shredded Mexican cheeses (4.5 grams of fat per ? cup serving) for a "South of the Border" Veggie Pizza. (Using fat free cheese along with nonfat cooking spray, as recommended in step 1, should knock out almost all the fat.)
Can't have cheese or any dairy products? Forego the cheese and use some other topping. I've topped my "pizzas" with grilled eggplant, zucchini and yellow squash. Or you can add a little protein by using boneless, skinless chicken breast, turkey breast or even shrimp.
You can also do different things with your sauce. Try combining some chicken stock with tomato paste, and add a little balsamic vinegar for a balsamic tomato sauce. Use some oregano instead of the orange zest and sage. Or make your own sauce, just like grandma used to make!
---
One Potato, Two Potato ­ Prep time 25 minutes/ Cook time 20 minutes
Sometimes, Splurge Day takes on a life of its own. Before you know it, your food journal is filled with entries you'd rather not show to your trainer on Monday. So here's a Splurge Day treat that will get you muscle-energizing carbohydrates and get you your serving of vegetables.
The nice thing about this recipe is that there's NO MAYO! Nope, none of that white, slimy, artery-clogging stuff! This recipe uses olive oil, which is a monounsaturated fat that is far healthier, and tastier, than mayo. This recipe also uses several different kinds of potatoes-red, sweet and baking. The baking potato makes the dressing thick and creamy. It sort of "melts" while boiling, and as the salad is tossed, the potato particles magically merge with the vinaigrette.
Feel free to experiment. How about some of those cute buttery little yellow potatoes? What about adding cubes of zucchini or yellow summer squash? You can also experiment with your seasonings: chopped fresh dill, tarragon, parsley or diced fresh fennel. Here's the recipe, once again from Redbook's "Flavor Rules":
1 ? pound red potatoes
1 large baking potato (8 ounces)
1 pound sweet potatoes
? dry white wine
? cup minced scallions
1/3 cup white wine vinegar
? cup olive oil
1 tablespoon Dijon mustard
1 teaspoon salt
1 red bell pepper, diced
1 rib celery, cut into ? inch dice
Cut red potatoes into ?-inch chunks. Peel baking potato and cut it into ?-inch chunks. Peel sweet potatoes and cut them into ?-inch chunks.
In 3-quart saucepan of boiling salted water, combine red potatoes and baking potato and cook about 15 minutes, or until red potatoes are tender (the baking potato will be very tender). Meanwhile, in 2-quart saucepan of simmering salted water, cook sweet potatoes about 10 minutes, or until tender.
While potatoes cook, in large bowl, combine wine and scallions. Drain white and sweet potatoes and, while they are still hot, add to wine mixture. Toss gently to coat.
In small bowl, whisk together vinegar, oil, mustard, and salt until combined. Pour dressing over potatoes, add red pepper and celery, and toss. Serve at once or let cool to room temperature and serve. DO NOT CHILL.
Divvy it up 8 ways and you'll have approximately 210 calories, 3 grams protein, 34 grams carbohydrates, 7 grams fat per portion.
---
Copyright © 1998 Fitness Connection. All rights reserved.
Information in this document is subject to change without notice.