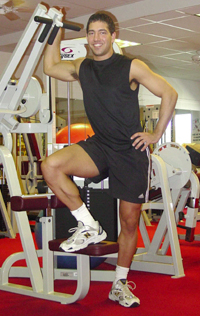 Jon Graffagnini
Certifications:
Aerobics And Fitness Association of America
Jon, a New Orleans native, graduated from DeLaSalle High School in 1996. He was a member of the National Honor Society while participating in Baseball and Basketball. From there Jon went on to play Baseball at Loyola University Of New Orleans and graduated in the fall of 2000 with a degree in Journalism.
In the summer of 2001 Jon traveled to Italy to play professional baseball for the Livorno "Mori." When Jon returned he then started working at one of Mackie Shilstone's Health and Nutrition Centers.
Jon's hobbies include listening to music, hanging out with friends and playing basketball, and tennis.
Jon was born on March 16, 1978. He has five brothers Todd, Kyle, Keith, David and Grayden.